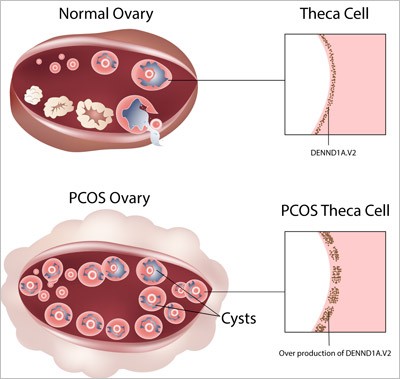 06 Jan 2018
This is one of the commonest disorder common in women of reproductive age. It is a by product of growing civilization in a manner where stress is induced by all possible manners to achieve results at all costs. It may be studies, career or marketing. Dr Arhat says "8 out of 10 women who come to my clinic every day are suffering from PCOD. It is like an epidemic. Majority of these women have seen other specialists for disorders like acne, hair fall, dandruff, facial hair, mood swings and have never been guided about PCOD being the root cause of these symptoms. It is unfortunate that in this age of medical specialization we are forgetting that nature has made female organs very sophisticatedly connected to each other. Any disturbance in the harmony of these organs results in symptoms all over a female body."
Different symptoms
Irregular periods, mostly delayed.
Facial hair
Weight gain
Acne
Dandruff, Hair fall
Mood swings
Cause of PCOD
So far the exact cause of PCOD is not known. It is most likely due to multiple genetic mutations. PCOD/PCOS can be passed on from one generation to the next. A number of ongoing studies suggest that a family history of diabetes is a strong factor in leading to PCOS. Apart from that, family history and certain anti seizure medication may make one more susceptible to suffer from the syndrome.
Dr Arhat says "It is an unfortunate fact that most vegetables and fruits available in market are pre injected with hormones to increase productivity. Same is the case with milk and milk products; cows are pre-injected with hormones so that milk bearing increases. Extremely sensitive female hormones respond to these hormones when young girls consume these food articles. There is a strong link between the rise in PCOD cases and use of hormones in food items"
The diagnosis of PCOS
The diagnosis of PCOS is based on symptoms, family history, followed by clinical tests like abdominal ultrasound to check for any cysts that might be visible on the ovaries. The doctor will also advise to have a blood test to check the hormonal levels and most importantly will diagnose the condition on what is known as the 'Rotterdam criteria', where one of the following 3 criteria are to be met, in order to be diagnosed with PCOS:
Polycystic ovaries on ultrasound.
Oligo and anovulation: Irregular or lack of ovulation – diagnosed with an ultrasound scan, blood test and history of missing or irregular periods.
Excess androgen activity i.e. secretion of the androgen or male hormone in your blood – diagnosed by a blood test.
PCOS and some similar conditions
There are other medical conditions that often resemble PCOS, like hypothyroidism (low levels of thyroid hormone), CAH (congenital adrenal hyperplasia), hyperprolactenemia (presence of abnormally high levels of pro lactin in the blood), pituitary adenoma (non cancerous tumor on the pituitary gland), androgen secreting tumors, Cushing's Syndrome etc. A doctor has to carefully rule out other conditions by her skill and correlating symptoms and test reports.